Spottingscopes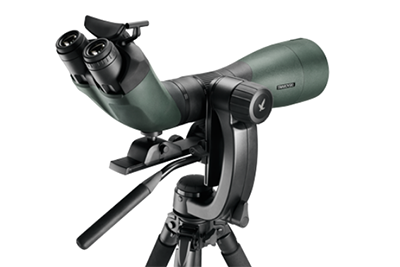 Swarovski BTX
High end (February 2018)
If you use a scope extensilvely then save up for a high quality scope with a diameter of about 80mm to get lots of light to a 20-60x Zoom eyepiece. The costly high end versions (indicated by APO, ED, FL, or HD) are first appreciated when using the scopes in difficult, or low light situations, coupled with zoom oculars, or when digiscoping. But they are worth the extra money since the most common setup today is with a highpowered zoom ocular, and they will last for decades.

I have always used Kowa scopes, and they are comparable with Zeiss, Leica and Swarovski. But try them out because you might not like a feature like the large focusing ring on Swarovski and some Nikons, making your choice a little easier. If you want to go with a cheaper scope like Kamakura then be sure to carefully compare with the other scopes in low light (e.g., evening comparison).

My choice would be the modular Swarovski with its fantastic binocular eyepiece BTX. It has a wide field of view and perfect ergonomics for long-hauls such as raptor watching or coastal counting. If you haven't tried it yet, do so. You will be surprised how amazingly good it is!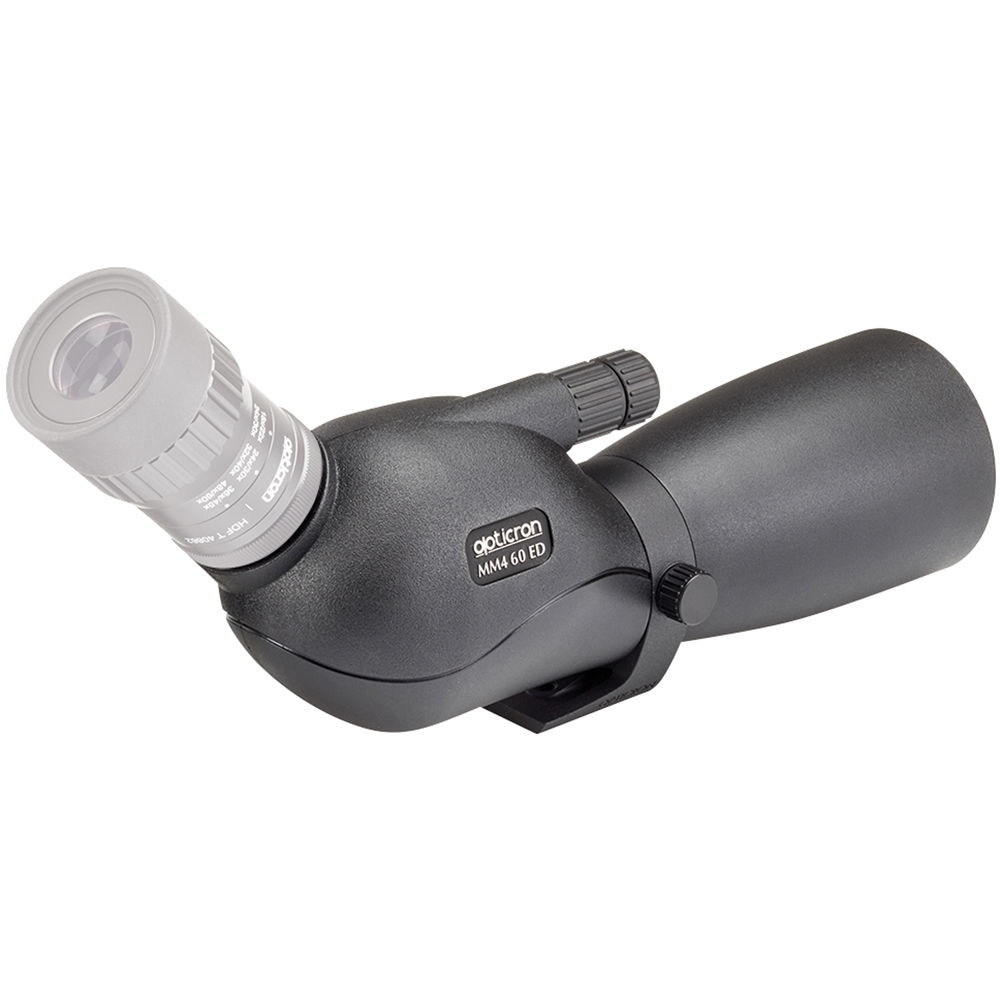 Opticron MM4 60 GA ED travelscope (60mm)
Travelscopes
I rarely use a scope these days as I have gone more into photography and filming. But I purchased a few years back the MM2 and it is a delight. The image is very bright for a 50mm, sharp, and with good contrast. I can carry it anywhere as it is so small and weighs nearly nothing. The only drawback was that the maximum magnification on the 50mm version was x36. I felt it was a bit limiting on some occasions so if I would purchase a new travelscope I would most likely opt for the 60mm version featured here. This because it can magnify up to x45 which most likely would be enough.
Digiscoping
If you want a documentation picture or get a nice picture for sharing on the web then it cannot get more affordable and easier than with your mobile phone camera and an adapter to your spottingscope. Swarovski and other large brands now manufacture their own phone adapters for older iPhones, but there are third party adapters and many innovative do-it-yourself versions to fit also other phones.
Angled vs. Straight
There is really not much difference between the two models. The angled is great if you are sharing a scope and don't want to adjust the tripod all the time.
In raptor migration a straight scope could be to your disadvantage as the birds can travel quite high, and you need to bend your neck awkwardly to keep them in view. But I think the differences are too small to say that the angled or the straight is a clear winner.
High End brands