Manitoba, Canada

Cape Churchill (taken from the back of a 1970's Ford F-150 roundup...) - June 2-16, 2007
This trip was long in the making. But one day I decided to burn my 9 days of vacation for the year on going to the tick infested, mosquito hell of the North American land of wild beasts and exciting weather ;-) I started off by ordering the Manitoba Naturalist Society book Finding birds in southern Manitoba. This is an excellent, up to date, guide for the visiting birder. The Churchill area was even easier to get to know as there are very few roads. I was unfortunate not to see the Ross' Gull and Yellow Rail. The best prairie was but a puny area in the very SW, and the best forest locations in the south were closed due to bad road conditions. But in all it was a great success with many beautiful nature experiences!

I headed out in my rental car immideately after the plane touched down in Winnipeg. That is I first bought a roadmap, and a few music CD's in the airport stores. John Denver kept me company going down the long country roads. My first heading was east, towards Whiteshell Provincial Park. My car came to a halt just west of Ste. Geneviève where a power line right-away crossed the road. There were several Golden-winged Warblers singing here. A black-billed Cuckoo joined in the evening choir as well. The golden-winged took most of my attention, and I wasn't even dressed for the bush as I didn't expect to hear this sought after warbler this late in the afternoon. While focused on getting a decent shot of the warbler I took little notice of the mosquito bites that seemed to increase in the most odd places. Then suddenly I stopped with the camera business to let out a mosquito that somehow must have let himself in through my shirt, and crawling about on my tummy. But instead of letting out a squashed mosquito, shivers built up as I noticed an army of creepy, crawling ticks marching up my body.

I quickly got rid of a few nasty ones, and slowly worked myself to the car. Then realizing I don't want the parasites to get a free ride to the motel I jogged down a dirt road some 50 yards before stripping down. I had just taken off my last sock when a car drove up to a stand of mailboxes I hadn't noticed before. A person looked at me from behind the wheel with a terrified expression before slowly putting the car in reverse, and heading back the way it came from. I guess seeing a nearly naked man, on a lonely dirt road, somewhere in no-where could make a person think twice before stepping out of a car...I am sure the dinner conversation got a little more exciting that evening.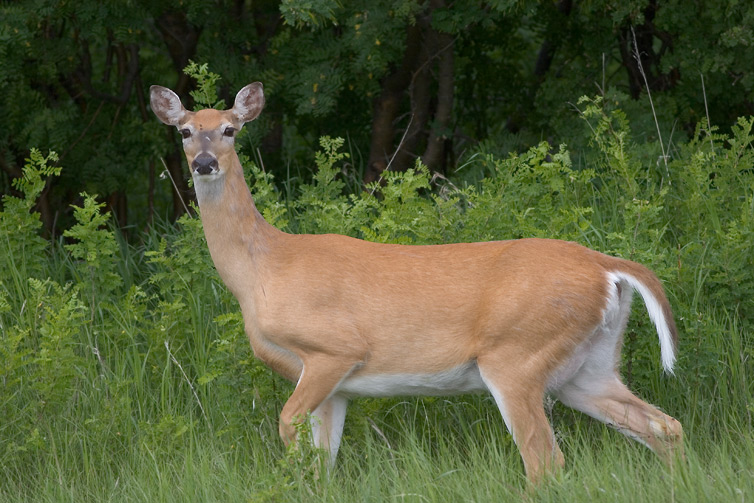 White-tailed Deer with those "lovely" ticks right in the forehead, Goodlands, SW Manitoba - June 7, 2007
Yes, I could have retouched the photo and removed the two ticks, and toned down the Vetch behind the head.
But this is not a postcard. It is a travel report written and shown like it was...;-)
Southern Manitoba:
The next day was a great day with Sedge-wren in several places, male, and female Sora calling to each other, while a Wilson's Snipe was whinnowing in the cold air. I photographed Chestnut-sided Warbler, Nashville Warbler and a Blue-winged Teal before turning north to Elma where a colony of Cliff Swallows stopped my advance towards the boreal forest. But soon I was happily driving through singing forests. The birds where not always easy to spot, but it sounded beautifully from the many birds hidden within. I preferred more deserted areas so I headed even further north to the Nopiming Provincial Park where a Ruffed Grouse showed itself nicely. But since the best road had been closed, and the only other road wasn't as rewarding as i hoped for I decided look for more boreal birds in Riding Mountain National Park at the western end of the state. I turned the car around and began the long drive westwards instead.

The first stop was Oak Hammock Marsh north of Winnipeg. This was the best place for Nelson's Sharp-tailed Sparrow, but was also rewarding for the many common prairie living ducks, terns, and passerines. I then stopped at Whitewater Lake and the prairie west of Melita. I made several short stops on the way as a bird here and there called through the open car window or walked on a field nearby. I am a safe driver, just very attentive :-) A Wilson's Snipe and an Upland Sandpiper were photographed during two such stops.

Whitewater Lake at the south western corner of the state was large and beautiful lake with thousands of Franklin's Gulls, elegant Western Grebes, Foster's Terns, Yellow-headed Blackbirds, Red-winged Blackbirds, Willets of the western ssp, and lots of Wilson's Phalaropes. The shorebirds were easier to approach from the south west end of the lake. Then there wasn't such a long drive west to Melita that is or should I say was the destination for birders going for the grassland birds in SW Manitoba...

The Prairie:
The Melita hotel did have a restaurant, but the room was less inviting with blood stained towels, and noisy hallways. But I wasn't sleeping long anyway. Though the Baird's Sparrow, Sprague Pipit, and Nelson's Sharp-tailed Sparrow were too far away for a photo with my Canon 20D + 400mm f/5.6. I did however get pictures of grasslands birds such as Grasshopper Sparrow, Marbled Godwit, Sharp-tailed Grouse, Brewer's Blackbird, Swainson's hawk, and along the Souris River a pair of Chestnut-collared Longspur. Surprising was a pair of Common Nighthawks chasing each other in the strong wind at noon. The most annoyingly hard to see common bird was the Le Conte's Sparrow. It was heard everywhere, but nearly impossible to see.

The Riding Mountain National Park:
I saw many more birds including the Ferruginous Hawk but the strong wind, and rainy weather chased me up to the boreal forest of Riding Mountain NP. No need to hang around the prairie when the rain is hammering down all day, and tornado watches are in effect accross several counties. A few hours ride north took me across some remnant pothole country with Canvasbacks, Redheads among the more common Gadwalls, Ring-necked Ducks, and Black Terns. Red-necked Grebes increased in numbers the closer Riding NP I came.

Tennessee Warblers were common, and Cape-May Warblers were singing from wherever there were stands of tall spruces. Olive-sided Flycatchers, Three-toed Woodpeckers, and the cries of the Common Loon enhanced the feeling of being in an old forest. Overhead one could see an occasional flock of White Pelicans, and Broad-winged Hawks though the Red-tailed hawks were the most common hawk in southern Manitoba. But again the best road had been closed, and after a black bear encounter, and yet another tick attack I started to long for the cold north. I rounded up the visit with some close views of Evening Grosbeaks, Flickers, and Hairy Woodpeckers.

Churchill:
This was the ultimate goal of this trip, and it was a great place to bird. Before I had taken many pictures at the grainery ponds a sweet retired couple offered me a lift to Cape Churchill. It was a bumpy, but short ride with some Arctic Jaegers, and American Pipits as highlights. We then continued towards the rocket launch. I forced them to stop at the city dump exit by hammering the roof with one hand while clenching my camera equipment in the other. I had spotted behind the trailing dust cloud a possible Thayer's Gull. It turned out to be the first of two Thayer's on this trip. I later on bought my new friends from Louisiana some beer for the ride, and celebrated the lifer in great company. I then rented my own roundup. It was also a Ford F-150 that seemed to be from the early 70's. The car was needed to get to the different locations and I got some great shots of the abundant Blackpoll Warblers. The Orange-crowned Warblers were also common in appropriate places, especially by the road to Landing Lake. The typical drumming of the Three-toed Woodpeckers sounded through the old stunted forest of Twin Lakes where I got some of the best shots of trip such as those of the two male Spruce Grouse. The Willow Ptarmigan were often walking openly on the gravel roads and therefore hard to miss. For a few days migrating Lapland Longspurs were common at the Grainery Rail Road tracks. Tundra Swan, Lincoln's Sparrow, White-crowned Sparrow were also conspicuous. I was lucky to see a couple of Smith's Longspurs mating on a large bog with Hudsonian Godwits, Short-billed Dowitchers, Yellowlegs, and Short-eared Owls.

There were many more birds on the trip such as the Solitary Sandpiper and Northern Hawk-owls on Hydro Road. The White-winged Crossbills at Twin Lakes just next to the Three-toed Woodpeckers favourite drumming tree and the Spruce Grouse feeding area. I had Waxwings and Pine Grosebeaks calling overhead. There were Boreal Chickadees moving through and a Grey-cheeked Thrush calling from a distance. But the weather was often overcast, rainy, and difficult to get decent photographs in.

I finally headed down south again with the delayed flight to Winnipeg. The last day in Canada started with a short outing north of Winnipeg that gave some Least flycatchers, Mourning Warblers, and a few more dozen mosquite bites that I tried to hide with a matching sunburn before catching the afternoon flight back to Denmark.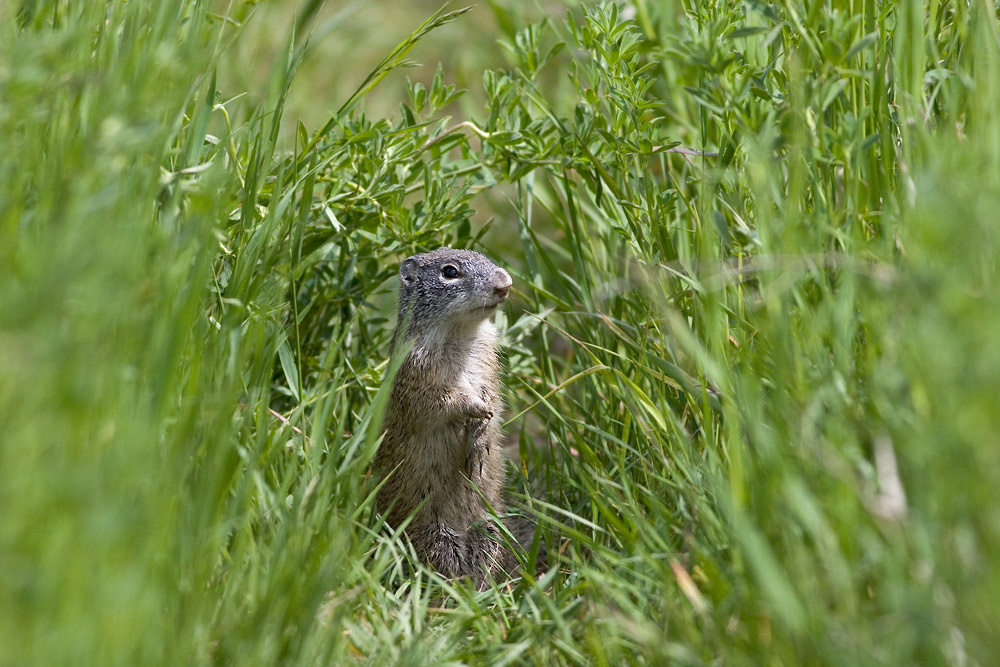 Ground Squirrel, Oak Hammock Marsh, Manitoba - June, 2007