This stopover was made on the way back from Sweden to New York City. I visited the Reykjanes and Snæfellsnes Peninsulas, including a morning at Þingvellir for sightseeing. I have made several short stopovers on Iceland, and this time I had one full day excluding the half days for travel. But because you have about 20 hours of daylight a lot of birding can be done in the late afternoon, and early morning. I even had time for my traditional hot bath in the Blue Lagoon before departure.

The planning began by checking the Travelling Birder, and then the Swedish Club 300 websites for recent trip reports. I also checked out the latest bird news on The Icelandic Birding Pages to see if there had been a "do not miss bird" on the day of travel.

I didn't book any rooms as I was alone, and in worst case could sleep in the car or in a wind shielded area (if I couldn't get a cheap sleeping bag room). The wind chill can be bothersome, and the normal day temperature is in the lower 60 degrees Fahrenheit. Use wind/rain tight clothes, a warm cap, and even gloves can be good to have. The car was the cheapest economy car I could find on Travelnet.is. Note however that the low clearance cars are not recomended as there are a lot of rutted, gravel roads.

The ultimate Icelandic trip would be to drive around the entire island, visit Latrabjarg, Lake Myvatn, Great Skua colonies in the SE, and maybe even a boat trip to Vestmannaeyjar for Storm-Petrels and migrants etc. A short day boat trip from Reykjavik could give close looks at most of the seabirds including Manx Shearwater (Sooty is unusual), Great Skua, Parasitic Jaeger, and the Atlantic Puffin. But with my time limit I decided to visit a nearby bird cliff to photograph auks, and bird new areas on the Snæfellsnes Peninsula which I never visited before.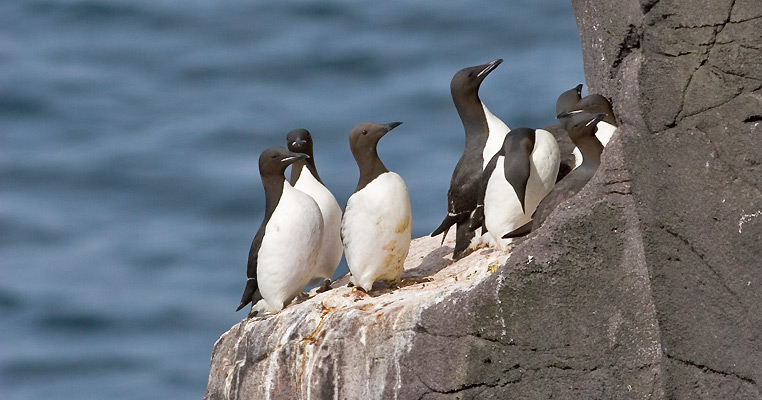 Common, and Thick-billed Murres, Svörtuloft, Snæfellsnes Peninsula, Iceland - June 22, 2006
Arrival:
I jumped on the plane in Denmark at noon (Swedes in the south often take the shuttle train from Malmö to Kastrup for transatlantic flights), and landed in Keflavik in the afternoon. My car rental guy was waiting for me so I it was just a matter of signing the papers and I was off.

My first stop was Sandgerði harbour, and lagoon. I photographed Lesser Black-backed Gulls, and Northern Fulmars while balancing on the jetty to some Icelanders amusement, and maybe betting on me falling into the cold water. Then I continued on to the lighthouse of Garðskagi northwest of Garður. This place is great for watching passing seabirds, and large congregations of fishing auks, gulls etc. This will ofcourse lure many birds of prey including lots of Great Skua, Parasitic Jaegers, and in non-breeding season I have even seen a Gyr Falcon here. I quickly lost count of the many Manx Shearwaters, and auks flying mostly west out of Faxaflói bay. The wind did bite a bit so I decided to have a coffee, and sandwich in the café by the lighthouse before heading eastward. After the refreshing break I drove slowly south to Garður scanning the fields for birds, and photograhing an Eurasian Golden Plover, and a hot and bothered Whimbrel. But then I really had to make some distance to the Snæfellsnes Peninsula where I had planned to photograph auks the next day.

I started off towards Reykjavik where I stopped for dinner at a Burger King/gas station. I also purchased the food supply for the next day in a Reykjavik convenient store. I bought a soft flatbread baked with egg which I ate with apples, and Skyr which is a dairy product made of skimmed milk most closely related to yoghurt. I quickly continued on reaching Borgarnes around 9:30PM and pulled in at the first camping/Hotel. I was lucky to get a very good and cheap sleeping bag room to stretch out my tired legs for a few ours of rest.

Day 1:
It was in the early morning I drove off to Rif on the north coast of the Snæfellsnes Peninsula. The road to Rif crosses the peninsula and winds its way high up in the mountain before a steep descent to the north coast. It was a chilly morning, but frequent stops resulted in a great look of a beautiful blue phase Arctic Fox trotting its way up a mountain side. Rif is known for its enormous Arctic Tern coloni, and its Red-necked Phalaropes. It also has large amounts of Glaucous Gulls, and a week earlier someone had reported a Ross's Gull here.

I continued on to Svörtuloft cliffs at the very west point of this peninsula. The rutty road to the lighthouse of Öndverðarnes demands some caution. Don't drive all the way to the lighthouse, but park at the T-intersection and walk the few hundred yards south to the lighthouse. The birding is actually best along this stretch, and you will save yourself from some stressful navigation (also avoid going north/right at the T-intersection as the road to the old ruined settlement is really bad). Northern Fulmars, Kittiwakes, Razorbills, Thick-billed, and Common Murres were abundant on the cliffs. Puffins, and Shags were much less common, but one Shag did fly all the way up on a bird cliff sending the nearest auks off into helter-skelter. The raven patroled the bird cliffs regulary as they do elsewhere along the coast. Eurasian Golden-Plovers, and Meadow Larks were very common. Snow Buntings, and Northern Wheatears were also hard to miss heading back to the car. After some invigorating dosage of Skyr, and flatbread it was time to continue the trip heading east towards Reykjavik again

I stopped at Malarrif for some spectacular views of the coast line and a repeat of some auks, but in much smaller numbers. Parasitic Jaegers (dark phased only on this visit), and a pair of Ravens hunted in the area.

Hellnar harbour with its unusal geological formations was the next stop. Here I got some good photographs of two male Harlequin Ducks, Common Eiders, Black Guillemots, Northen Fulmars, and Glaucous Gulls. I tanked up with coffee in the little harbour café, and admired the beautiful scenery.

Back on the road I headed east at a fast pace. But I did stop to pick up three lovely young ladies that were on their way to the local swimming pool. Before I dropped them off I picked up yet another person. This time it was Ragnar from the Westfjords. We two had a great ride all the way to Reykjavik. On his advice I found a great place to stay in Hveragerði just east of Reykjavik. I ended the evening by indulging in a delicious seafood pizza, and a Viking beer while watching the world championship in soccer.

Departure:
The morning birding was done along the road south of Hveragerði and along the coast line going east just past Stokkseyri to inspect the meadows, and ponds for birds. I got plenty of Common Ringed-Plover, Dunlin, Red-necked Phalarope, Oystercatcher, Black-tailed Godwit, Redshank, Whooper Swan, etc.

I then turned to the north towards Þhingvallavatn and visited írafossstöð powerstation along river Sog where I saw a dozen Barrow's Goldeneye. My sightseeing goal was Þhingvellir where I had planned to see the natural rift that the Vikings used as their parliament, and general assembly. It is very beautifully situated on the high plains overlooking the lake Þhingvallavatn, and shouldn't be missed. I didn't see much birds and the time ran away, but a Redwing did show itself very nicely.

I started to head back to Keflavik, and the Blue Lagoon. But I decided to stop in Reykjavik on the way to check out Seltjarnarnes. This little peninsula has a couple of small ponds at its terminus, and those did result in a few good shots of a Redshank, Arctic Tern, Common Eider, and Tufted Duck. Then it was definitely time for a satisfying, hour long, hot bath in the Blue Lagoon followed by the short trip to the airport and the flight home.