Orlando, and central Florida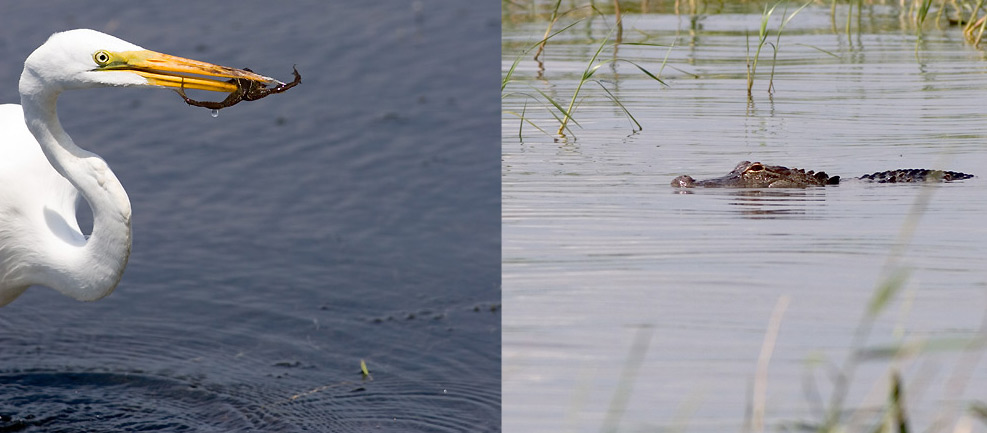 "Beautiful beaches to lakes, prairies, and agricultural lands teeming with birds"
A Viera Wetlands egrett, and a Lake Kissimmee gator, Florida USA - April 22-29, 2006
In conjunction with my business meeting in Orlando I decided to explore neighbouring areas for birdwatching, and bird photographing. I managed to forget my ABA guide to Florida at home so it was good I had memorized most locations. I did however email some people on the local birdingonthe.net mailing lists and they responded back with suggestions such as Viera Wetlands and Orlando Wetlands Park; thank you all for the advice.

It started out great with Lake Kissimmee just to the south. The North Shore had at least two pairs of Limpkins, Double-crested Cormorants accompanied with some Anhingas. A couple of Wood Storks were seen close to St Cloud where Sandhill Cranes were very common. Species that I encountered just about everywhere were Tricolored herons, Common Moorhens, Boat-tailed Grackles, Red-shouldered Hawks, Ospreys, and Bald Eagles!

Three Lakes WMA just a bit further south along route 523 on Lake Kissimmees east shore had Red-cockaded Woodpeckers, Bachman's Sparrows, but I missed the local ssp of Grasshopper Sparrow. In any case the turnoff to Joe Overstreet Rd boat landing was a great success. Along the dirt road I spotted a pair of Crested Caracaras, a single Swallow-tailed Kite, Bald Eagles, Red-shouldered Hawks, a Coopers Hawk, Solitary Sandpipers etc. Eastern Meadowlarks, and Loggerhead Shrikes were abundant along this stretch of road. At the boat landing I had a great view of the lake, and the marshes stretching to the north, and south. Unfortunately this was private land, and fenced off. But with my brand new ZEISS 10x32 T*FL I quickly found a dozen of Long-billed Dowitchers, a few Least Sandpipers, two Wilson's Snipes among the many herons, and egretts stalking the marshes for some goodies! Then suddenly along a peninsula jutting out into the lake I saw the typical flight of a kite with white undertail/uppertail coverts; a SNAIL KITE! I was really excited, and followed it as it hunted low over the flooded marshes. Suddenly it landed on the ground, and a second then a third snail kite came into view. These birds were around most of the time, but very far away. I could later on look a little closer as an English chap arrived with a spottingscope, and a female had perched on a pole for easy viewing.

I also darted off to Fort De Soto, and Honeymoon Island to get acquainted with Gray Kingbirds, Roseate Spoonbills, and a Reddish Egret. I also got some very good looks at Least, Sandwich, and Royal Terns. Wilson's, and Piping Plovers were also very obliging. The migrants didn't show up in great numbers at this famous hotspot, but living in New York I knew I would have lots of passerines upon my return. After "Cinco de Mayo" the warblers roost "en masse" in the few parks of NYC!

Finally I crossed back to Viera Wetlands for Purple Gallinule, and Black-bellied Ducks. I missed both species, and if I had time I would have also tried Orlando Wetlands Park for them (I saw both of them at the excellent OWP in May 2007). But I did however get stunning looks at a Black Tern in a group of Least Terns. Several Least Bitterns were on the wings as it was a very windy day and they took the opportunity to zip between the ponds, or to new haunts. A Crested Caracara, and two Bald Eagles checked out the ponds for something to eat while alarming the birds on ground. American Stilts and Solitary Sandpipers were among the few shorebirds seen here. All in all this was a very succesful, and similar trip to last years annual tech summit in Las Vegas. Birding can often be combined with work even in and around the largest commercial cities in America!
---
All text and images are Copyright
© 2004-2015, Wildbirdgallery.com. All rights reserved.